The
Del Mar National Horse Show
, May 3-
8, 2016
, always provides an exciting weekend of competition at the Del Mar Fairgrounds for exhibitors, sponsors, and owners. This year was no exception, with intense competition in the weekend's special classes with horses and riders from around the world!
"The weekend's special classes provided a great time for everyone," said Amy Billburg, the Equestrian Manager for the Del Mar Fairgrounds. "It is so rewarding to see the fans, competitors and sponsors enjoying the show and
tonight's
Grand Prix of Del Mar had a fantastic crowd and field of competition!"
Richard Spooner and Chivas Z top 51 entries in the
$25,000 Surfside Grand Prix Presented by iJump Sports
Photo by Del Mar National Horse Show
Friday night began the excitement with 51 starters in the $25,000 Surfside Grand Prix Presented by iJump Sports. This speed class, designed by world renowned course designer Heiko Wahlers, was created to test the riders and their mount's speed and agility. With a course containing three combinations and only a few places to take advantage of an inside track, the riders had to keep their path clear and concise to make it under the tough time allowed of 74 seconds.
Some trying spots in the course included fence 10, a lofty oxer heading home to the final combination, two verticals, 11AB. Riders could choose either a long five to 11AB or a shorter six, causing some to drop a rail also at 11A. Another test Wahlers added was a back to back combination. Riders had to navigate 6AB, a large oxer to vertical, then follow a bending line down the long side to 7AB, a vertical to oxer combination. After they landed from 7AB they had the option to turn inside of 3 to fence 8, a large oxer in the middle of the arena.
Nine horse and rider combinations successfully completed the course with no jumping faults and within the time allowed! In the end, it was Richard Spooner and his Chivas Z who topped the field of competition, with a time of 66.82. Second place went to another West coast favorite Rich Fellers and Harry and Mollie Chapman's Flexible, close behind Spooner with a time of 67.73. Rounding out the top three was Enrique Gonzalez with a time of 71.65 on his own Chacna.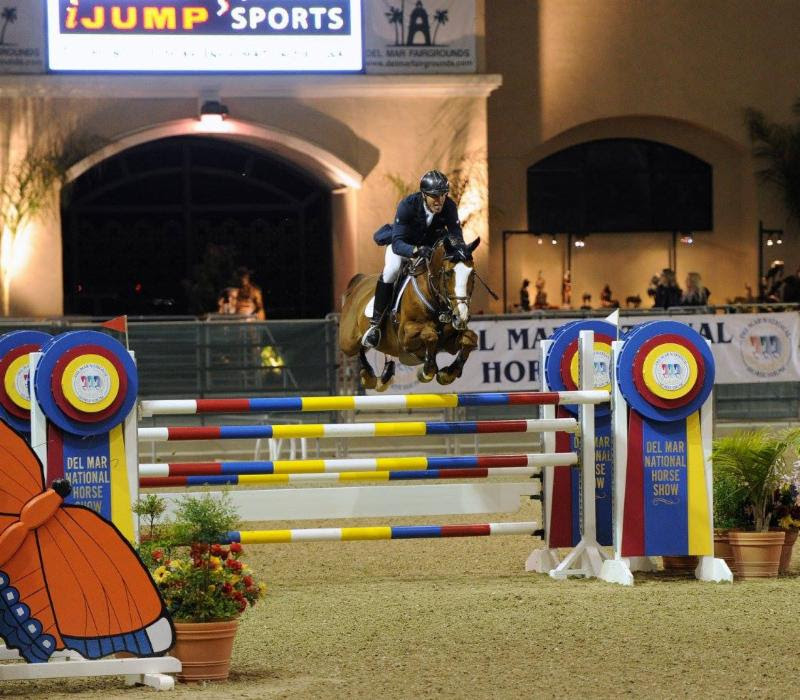 Rich Fellers and Flexible come in second
for the $25,000 Surfside Grand Prix Presented by iJump Sports
Photo by the Del Mar National horse Show
Spooner and Chivas Z were second last year in the Surfside Grand Prix to Eduardo Menezes and Clear Me!
Top 12 Placings in the $25,000 Surfside Grand Prix Presented by iJump Sports:
Saturday
, we began the evening at
6:45PM
with a full house for the exciting Ride & Drive Classic
Presented by The Competitive Equestrian Magazine.
The riders and horses navigated a course, then the rider dismounted, ran to the designated Ford Mustang provided by Del Mar National's incredible sponsors, at 
Mossy Automotive Group
, to drive through a course of cones! Kyle King was victorious in this fun competition, managing to out-ride and out-drive his seven competitors!
The Grand Prix of Del Mar provided a thrilling night of competitive show jumping for a full house at the Del Mar Arena. The 29 starting horse and rider pairs were tested with Heiko Wahlers' course of 16 efforts in the first round and 8 fences in the jump off. The course included a triple combination across the diagonal, 11ABC, which landed 11 riders with rails, and a short combination of an oxer to a vertical, 6AB, on the rail. Nine riders found the final fence, a lofty oxer on the rail challenging, all having rails.
Chris Pratt and Concorde take home the win in the
$100,000 Grand Prix of Del Mar at the Del Mar National Horse Show
Shown in photo: Chris Pratt, Lee Haydu, Director 22nd DAA, Member Horse Show Committee,
Russ Penniman, Director 22nd DAA President & Chairman of Horse Show Committee, Carol Penniman,
Elizabeth Penniman, Tim Fennell, CEO and General Manager, 22nd DAA,
Amy Billburg, Equestrian Manager and Dale Harvey, Hunter/Jumper Division Manager
Photo by Rick Osteen
The course allowed four riders into the jump off: Enrique Gonzalez, Chris Pratt, Jack Hardin Towell, and Guy Thomas, unfortunately leaving Richard Spooner and both Chivas Z and Cristallo out of the jump-off, but in the top 12. The jump off flowed around the whole Del Mar Arena, allowing the riders the opportunity to gallop and let their horses loose.
Unfortunately, Guy Thomas and Jonkheer Z collected a pair of rails as the first combination in the ring for the jump off. Chris Pratt and Concorde followed Thomas' round, galloping clean and in a fast time of 45.34. Jack Hardin Towell knew he had to be clean and quick to beat Pratt, putting up an impressive effort, clean and in a time of 46.56, less than a second off Pratt's pace. Final in the arena was Enrique Gonzalez and Chacna! On pace to beat Pratt's time, an unfortunate bobble at fence 16 gave him 4 faults, placing him in third. Following the presentation was a party in the courtyard with live music and an autograph signing with all the Grand Prix riders!
Chris Pratt and Concorde flying to their first place finish
Photo by the Del Mar National Horse Show
Top 12 Placings of the $100,000 Grand Prix of Del Mar:
"Thank you to all the spectators, exhibitors, sponsors and owners who attended this weekend's special classes at the Del Mar National Horse Show," said Adrienne Karazissis. "
Tonight's
Grand Prix of Del Mar was a great competition and the excited crowd made the evening that much better for the riders and their horses!"
If you are unable to join us in person
tomorrow
, stay in the loop with the live webcast through 
EQSportsNet
 for the final day of competition, and be sure to follow Del Mar National on
Facebook
!
Danielle Ballard for West Palms Events and the Del Mar National Horse Show