The Flintridge La Cañada Guild provides an enormous amount of support to
Huntington Hospital in order to provide their patients with the best care. The
Guild has supported efforts to contribute to all areas of the hospital, including areas such as the NICU, the Emergency and Trauma Center and medical education. The time and effort the Guild dedicates to their cause is commendable and West Palms is honored to work with them again this year for the 95th Annual Flintridge Horse Show!
"The Guild does such incredible work for the Hospital and its community," said Dale Harvey of West Palms Events. "They are truly an incredible team and West Palms is happy to support them in reaching their goals!"
At the end of the 2015 94th Annual Flintridge Horse Show, the Guild presented a check in the amount of $50,000 to Huntington Hospital to assist with a specific project. The project was to raise funds for the Neurological Rehabilitation Center for the daily use of advanced FES technology.
The Guild presents their contribution of $50,000 to the Hospital
Left to Right:  Tina Cartwright, Ilin Ohanessians (HMH recipient), Deb Turner, Lauren Oakes,
Sherlyn Claridge, Michelle Colbert, Becky Rieck, Jenny Stern, Tracy Smith (HMH recipient),
Kris Korkunis, Sue Blumenfeld, Allison Regan, Martha Denzel, Gail Jagels
Functional electrical stimulation (FES) technology helps patients who are recovering from a stroke, traumatic brain injury or other neurological disorder. While the patient's natural electrical brain signals are healing, FES acts as an artificial brain by stimulating nerves in the lower and upper extremities from outside the body. This technology helps the patients with daily tasks that have become difficult because of their injury, such as walking and maintaining muscle mass as they are healing, and it ultimately aids in helping reeducate the brain and muscles to their natural state.
The team in the Neurological Rehab Center at Huntington Memorial Hospital for the FES Project
From left to right: Kelly Hons, Kris Korkunis, Liane Ward, Deb Turner, Becky Rieck, Lauren Oakes
Photo provided by Flintridge La Cañada Guild
Beginning in 2016, the Guild is working on providing the Hospital with support on their Stroke Care project. "Stroke can affect anyone, at any age," says Jenny Stern, President of Flintridge La Cañada Guild, "and we felt it was important to help ensure that community members have access to the very best of stroke care, close to home."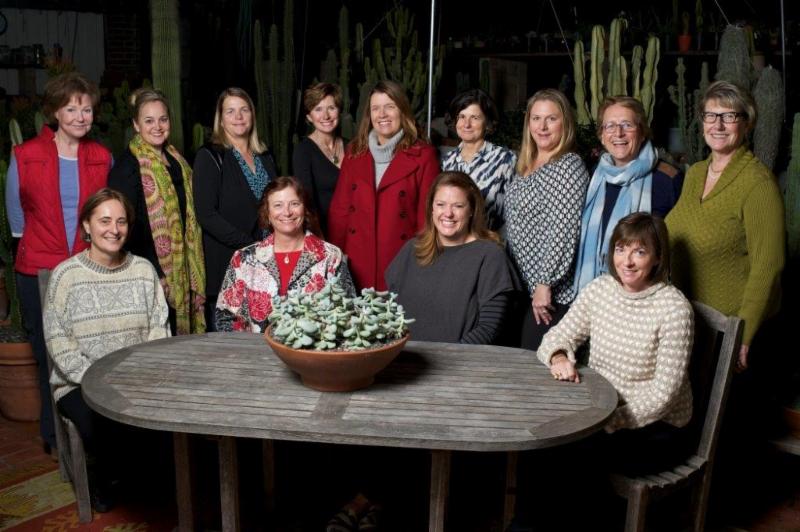 The 2015-2016 Flintridge La Cañada Guild members
Top row left to right:  Lauren Oakes, Allison Regan, Helen Lund, Deb Turner,
Ruthann Berg, Gail Jagels, Michelle Colbert, Becky Rieck, Sherlyn Claridge,
Bottom row left to right:  Vinnie Fraipont, Tina Cartwright, Jenny Stern,
Liane Ward, (not pictured Margie Solares).
Their pledge this year is to raise $100,000 for Huntington Hospital's Comprehensive Stroke Care Project. The Hospital provides the community with higher than industry standards for stroke care, having become certified as a Primary Stroke Center. They are also giving patients who are experiencing stroke symptoms in the emergency room the opportunity to be seen and treated much faster by specialists, improving their overall outcomes.
Danielle Ballard for West Palms Events
Medical Information Provided by the Flintridge La Cañada Guild