The second week of the third edition of the Huntington Beach Horse Show Series kicked off today at the beautiful Huntington Central Park Equestrian Center. The Equestrian Center is set on a beautiful 25 acres, right next to the beach in Orange County. With over 400 horses calling the Equestrian Center home, with many trainers and multiple disciplines, it is a busy stable and a wonderful venue for a horse show! The Huntington Beach Summer Classic is the final show in the 2015 Huntington Beach Horse Show Series. The series has been featured in the June edition of the Chronicle of the Horse's UnTacked as a destination showcation for your Summer travel!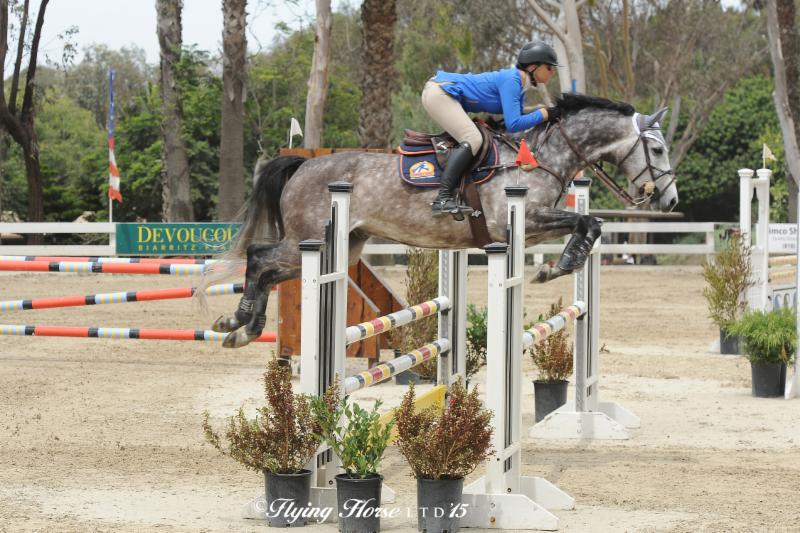 Kristy Miller and Clarence 2 at the Huntington Beach Summer Classic
Photo by: Flying Horse Photography
Spectators and competitors were treated to a warm day with beach breezes to begin the busy week of competition. Dee Harp and Faust kicked off the week with a win in the 1.00m jumpers and Laura Hannink and Florance took home the blue in the in the 1.10m jumpers! The 1.20m jumpers were taken by Nicole Kane and Ithaca and Kathryn Pulford and California LS took the 1.20m Modified Jr/Am Jumpers. Laura Ware and Ursina du Perchet claimed the victory in the 1.30m jumpers, with Lama Al Saud and her Casino taking the 1.30m Low Jr/Ao Jumpers class, and the 1.40m jumper class was won by Mark Watring on his mount Balyon.
Over in the hunter arena, Patrick Spanton had a fantastic day, winning a trunk load of blues, including the Performance Working Hunters, Handy and Under Saddle, Pre-Green Working Hunters 3′, Under Saddle, Training Working Hunter Under Saddle, Low Working Hunter, and the Under Saddle! What an impressive take on the first day of the Huntington Beach Summer Classic! Laura Ware also took home multiple blues today, winning the Baby Green Working Hunter, Under Saddle, and Training Working Hunter! Sara Graham and her Ferdinand took home first in the Low Children's/Adult Working Hunter on the first card, with Sophia Sterbentz winning the second card on Masterpiece! Shauna Pennell was victorious in multiple classes as well, taking home first on Ferdinand in the Training Working Hunter and the Low Working Hunter.
This week will feature some exciting events starting with the $2,500 Grand Prix Hunter Derby on Friday afternoon and then Saturday evening at 5PM, don't miss the $25,000 S&S BankCard Systems Grand Prix of Huntington Beach with Horse Nation Foundation's Grand Prix Dinner-Dance! Fine dining, dancing, a silent auction and Grand Prix show jumping make for a fun night out at the Huntington Central Park Equestrian Center for the Huntington Beach Summer Classic, and all proceeds benefit the Horse Nation Foundation! Special VIP tables, smaller tables and individual tickets are available now, but they are going fast!
Extravaganza and Michele Ryan at the Huntington Beach Summer Classic!
They took second in the Low Children's/Adult Working Hunter class.
Photo By: West Palms Events
Horse Nation Foundation is a non-profit program that pairs rescued horses with young people who are working on life-enriching lessons including gang and bullying avoidance, effective communication and building strong morals and values. The horses in this program have suffered abuse and neglect, and are receiving a second chance at life with kindness and proper care. The youngsters who interact with them are working toward building a strong emotional foundation in order to grow into confident, productive individuals. This innovative educational program helps the kids gain self-esteem and life skills through positive action and horsemanship skills.
"We're very happy to be able to have the Horse Nation Foundation Grand Prix Dinner-Dance at the Huntington Beach Summer Classic," said Dale Harvey of West Palms Events. "It is a great charity and we hope you will come to support them Saturday evening and watch the S&S BankCard Systems Grand Prix of Huntington Beach with us!"
Please purchase your tickets for the Dinner-Dance 
here
, we look forward to seeing you Saturday evening! Wishing everyone a wonderful week of showing!