Stylish Gift Guide: By LA Saddlery's Renee Spurge
The other day I had to pop into Macy's for a quick errand and I nearly passed out from the abundance of red Christmas balls hanging from the ceiling! For heavens sake it is still 90 degrees outside and I haven't even bought my Halloween candy yet. Don't get me wrong I wholeheartedly love the spirit of the holiday season. Friends and family and food, lots of food, and for me it's the giving of gifts to those I love that make this time of year so special. However I have been told on many gift- giving occasions that I am not the easiest person to shop for.  So in an effort to help all of you who perhaps have one of me to shop for this upcoming season, here are a few gift ideas for your picky equestrian peers.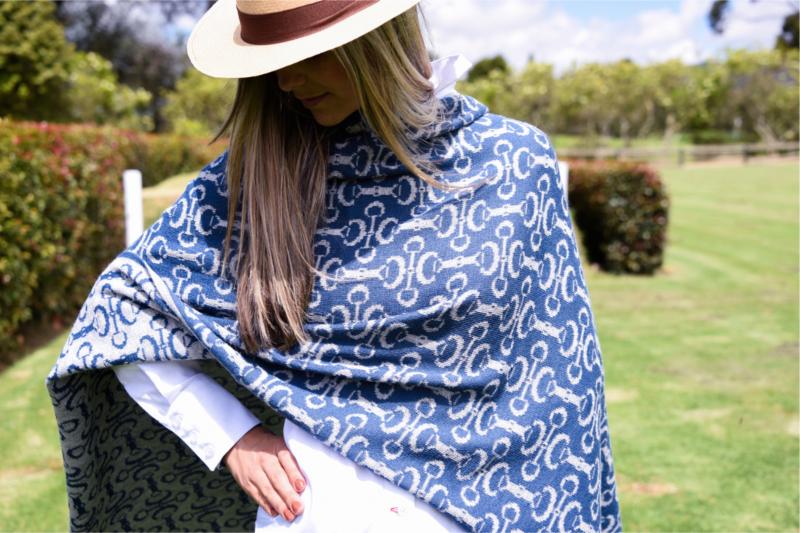 Ronner Design's alpaca poncho
First rule of thumb, it is best to stay clear of articles of clothing that require you to determine someone's size!  This year instead of getting her that over priced sweater from
Liz and Paul scarf
Bloomies, opt for a stunning alpaca Poncho from Ronner Designs new fall collection. They come in a variety of colors, are reversible, one size fits all, and they drape and wear beautifully over all shapes!
If any of my loved ones are reading this, then I will tell you the same thing I said last year and the year before that, you cannot go wrong with giving me a scarf!  Fashion trends over the past 5 years have proven that it doesn't have to be below zero to wear a scarf. In fact the summer weight scarf is trumping the winter fabrics every year in sales.  And since we all know as a So Cal resident it is going to be summer all year round, get that favorite person a lovely lightweight Liz & Paul scarf for under the tree.  And at just under $50 it also makes a great one of eight Hanukah gift!
Finally if you want to get your equestrian friend, mate, lover, trainer, all of the above, a gift they can actually use at the barn then my suggestion is the Titanio Lorenzini stirrups.  They are also one size fits all and come in standard chrome for your hunter friends, or any other color you can imagine for the jumper in your life. Even a dressage lady can appreciate a good stirrup that keeps you balanced and helps your joints while of course still looking like the fabulous barn diva!
Titanio Lorenzini Stirrups
LA Saddlery is happy to help you with all of your holiday shopping needs online at www.lasaddlery.com, in our store at the Los Angeles Equestrian Center, and here of course with me at the last week of Paso Robles! The LA Saddlery team hopes you have a wonderful and somewhat cooler holiday season!
Renee