BY  SOPHIE ST.CLAIR
Since its first year in 2012, the Sacramento International Team Challenge has been a featured championship for junior riders at the Sacramento International Horse Show, in Sacramento, CA. Impressively, in 2012 and 2013, the Canadian team from Jump Alberta was victorious. For this year's edition of the Team Challenge, presented by Stoneridge Farms and held at SIHS from September 23-28th, they sent another team of seasoned riders to defend their two-time champion title. Make no mistake, Jump Alberta did not travel over a thousand miles without a plan to defend their back-to-back titles.
The International Team Challenge is the brain-child of West Palms Events Manager Dale Harvey, and John Anderson of Rocky Mountain Show Jumping. It was created to assist young riders competing at the 1.20M level, in gaining valuable team competition experience in a Nations Cup format. This experience is meant to propel these young riders forward into major team championships such as the Adequan FEI North American Junior/Young Rider Championship, among other international competitions held in a similar format.
Kristi Beunder, President of Jump Alberta, says that over the last three years the participation and interest to join the Jump Alberta team has grown steadily. She discussed how the word is circulating among riders and trainers about how fun and rewarding the competition has been. With the high quality of the show venue at Rancho Murieta Equestrian Center, combined with gorgeous California fall weather, many Calgarians were vying for a coveted spot on the team.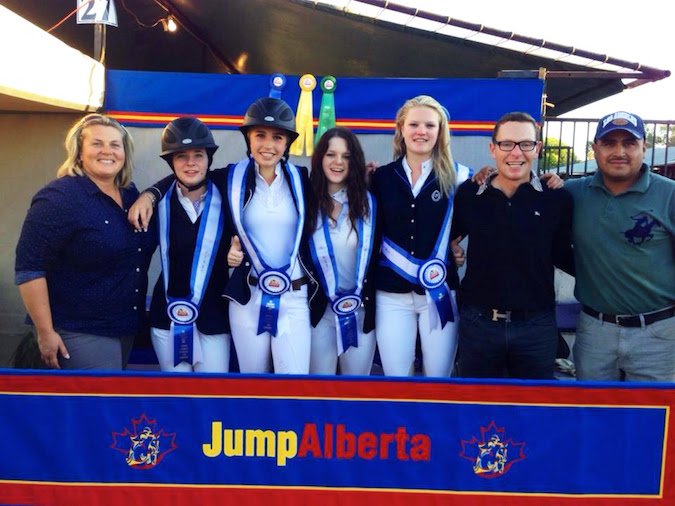 Jump Alberta 2013 following their win last year: Rachel Coldham, Alex Hopkins, Shea Buckland, Meagan Beunder, Rodney Tulloch
To be considered for the Jump Alberta team, riders officially declared their interest and submitted their results and points from the 1.20M and 1.30M level to the Jump Alberta committee. Then, a three-person subcommittee from Jump Alberta observed the horses and riders over the course of several shows to see how well both were doing as the Sacramento International Horse Show neared.
This year's team was possibly the strongest that Jump Alberta has ever sent, according to two-time Chef d'Equipe Trish Mrakawa. She said she had many options available to her as she decided on the strategy and order of the team. "Each of the riders is very strong and experienced and could slot into any part of the team from Lead-Off Rider to Anchor," Mrakawa explained. The team this year benefitted from two-time participant and former anchor, Shelby Edwards. Shelby is a very aggressive rider who doesn't like to leave seconds on the table. Jumper Natalie McHenry is a fearless go-getter. Chelsea Walsh is a strong jumper and equitation rider who is qualified for the Canadian Equestrian Team Finals this year. The last member of the team was Samantha Starret and, at just 14, she has already competed in the FEI Children's Jumper Championship. She added valuable international experience to the Jump Alberta team roster.
While the team was very competitive, for rider Shelby Edwards it's not all about the competition. She enjoys the team atmosphere, the opportunity to make friends on other teams and the friendliness of everyone at the Sacramento International Horse Show. But, the big question on everyone's mind heading into the challenge was, could the team from Jump Alberta do it again? Could they clinch the title for a three-peat? If you were at the Sacramento International Horse Show and watched the International Team Challenge, it became a highlight of the show. The American teams came ready to win too. Some of the standout riders who participated were fast-rising jumper and equitation stars such as Peyton Warren, Natalie Wendt, Madison Myro and Dalan Laughlin. These girls and their teams came to the Challenge with a plan too, to win.
But in the end, a three-peat victory was not in the cards for Team Alberta.  The spoils went to Team SNHJA (Southern Nevada Hunter Jumper Association) of Jacob Daily, Gigi Papasavvas, Madison Myro and Kimara Soffe. Jump Alberta performed well but had to settle for second place this year.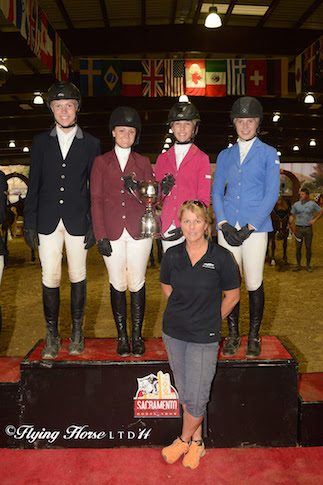 2014 Sacramento International Team Challenge winners! Pictured above and at top: Jacob Daily, Gigi Papasavvas, Madison Myro and Kimara Soffe. Photo ©Flying Horse
Team NorCal Swag of Ian McFarlane, Natalie Wendt, Dalan Laughlin and Peyton Warren took third. In total, six teams participated and gained valuable experience in strategy, teamwork and sportsmanship. They learned too that even the best-laid plans can take a turn in an instant. That's what keeps this sport so exciting. On any given day, it can be anyone's title to win.